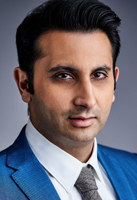 CEO
Serum Institute of India
Adar Poonawalla is the Chief Executive Officer (CEO) of the Serum Institute of India (SII), a private family-owned business founded in 1966 by his father Dr. Cyrus Poonawalla. SII is the world's largest vaccine manufacturer by the number of doses produced and sold a year (1.5bn). By the end of 2021 SII will be producing more than 3 billion doses of vaccines per year, 1.5bn of which will be Covid vaccines.
Adar joined SII in 2001, after graduating from the University of Westminster in London. Then exporting its products to 30 countries, he focused on the company's international market and ensuring new products were licensed and pre-qualified by the World Health Organization for supply to United Nations Agencies including UNICEF and PAHO.
Adar took over from his father as CEO in 2011, taking complete control of day-to-day operations of the company. In this role, Adar has focused on bringing down the prices of vaccines to make them affordable for developing communities, while leading SII to innovate and develop new vaccines against preventable diseases to protect lives around the globe. As a result of his mission to fight health inequality by making access to vaccines more equitable, Adar has since expanded SII's reach to supply over 170 countries with life-saving vaccines today.
Adar continues to lead the expansion of SII, developing affordable vaccines for global outbreaks – most currently the Covid-19 vaccine – and for preventable diseases, particularly in low- and middle-income countries. SII has produced and distributed over 280 million doses of the Covid-19 vaccine to 70 countries (as of June 2021) and is continuing to increase production month-on-month. Many new vaccines such as Rotavirus and Pneumococcal have been produced in his tenure.
Adar and his wife Natasha are the founders of the Villoo Poonawalla Charitable Foundation, launched in 2012 to improve lives through a focus on increasing education, healthcare, safe water and environmental sanitation. Today in Pune, where SII is based, the Foundation has eight schools with over 10,000 children being educated and a charitable hospital. It also picks up and processes city waste to mitigate its impact on the health of local populations and provides clean drinking water at 30 locations.
Adar is the founder of Poonawalla Finance, a fast-growing digital non-banking financial company established in 2019 and headquartered in Pune, India.
Adar is a (former) board member of GAVI, the Vaccine Alliance focused on helping vaccinate the world's children against deadly and debilitating infectious diseases.
Adar has been recognized with a number of accolades over the years, most recently Fortune's Greatest Leaders (2021), Economic Times Entrepreneur of the Year (2021), Hurun National Icon of Philanthropy (2019), Indian of the Year – CSR Category (2020), Forbes India Leadership Awards GenNext Entrepreneur (2018) and CNBC Asia's Corporate Social Responsibility (2018).
In 2017, he was appointed by the Indian Prime Minister as Brand Ambassador for Swachh Bharat, a country-wide campaign initiated by the Government of India to improve waste management.