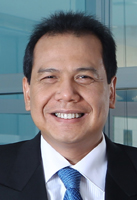 Chairul Tanjung is the founder and Chairman of CT Corp., Indonesia's leading consumer-centric business group, with core focus on financial services, media, lifestyle, retail, property and entertainment. His prominent businesses include: Bank Mega – the largest Visa credit card issuer in Indonesia, Allo Bank – one of Indonesia's largest digital banks, Transmart Carrefour – the largest hypermarket player in Indonesia, Trans TV and Trans 7 – the two leading free-to-air channels, TransVision – the #1 pay TV provider, Detik.com – #1 online portal, Metro Department Store, Baskin Robbins, The Coffee Bean and Tea Leaf, Wendy's and a few leading high-end fashion brands (including Hugo Boss, Aigner, and Furla); as well as theme parks, shopping malls, property, and hotels. CT Corp is also the largest private shareholder of Garuda Indonesia, Indonesia's flagship carrier.
Mr. Tanjung is one of Indonesia's most prominent and well respected business leaders. He is a first generation entrepreneur, establishing his business during his first year of studying at Faculty of Dentistry, University of Indonesia. He has been awarded honorary doctorate degrees by the University of Airlangga, Surabaya; the University of Padjadjaran, Bandung; and the MARA University of Technology, Malaysia. He is also a Professor for Entrepreneurship at the University of Airlangga and a Visiting Professor for Entrepreneurship at the MARA University of Technology.
Mr. Tanjung is a recipient of numerous accolades, some of which include "Bintang Mahaputra Adipradana" from the Government of Republic of Indonesia (2014), "Award for Outstanding Contribution to Asian Television" from Asian Television Awards (2017), "Man of the Year" from Globe Asia (2011), "Indonesia's Rising Star" from Forbes (2010), "Entrepreneur of the Year" from Enterprise Asia (2009), "Banker of the Year" from Globe Asia (2008), and "Marketer of the Year" from Indonesian Marketing Association and Markplus (2007) among others.
Mr. Tanjung served as the Coordinating Minister for Economic Affairs during President Susilo Bambang Yudhoyono's second presidential term and prior to that was also Chairman of the National Economic Council.
Mr. Tanjung is also active in various social activities under CT ARSA Foundation and other institutions. He is the Advisory Board Member of Indonesian Dental Association, Member of the Advisory Board of Majelis Ulama Indonesia, Advisory Board Member of Singapore Forum, Honorary Advisor of the Asian Financial Forum, Honorary Advisor Belt and Road Summit, Board of Trustees United States – Indonesia Society, and Member of ADB Water Advisory Group among others.