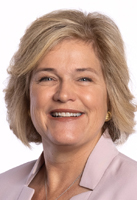 President and CEO
Franklin Templeton
Jenny Johnson is President and Chief Executive Officer of Franklin Templeton. In a career at Franklin Templeton spanning over 30 years, she has been a key driver in the company's transformation to what is now one of the most respected global firms focused on investment management, technology, innovation, diversity and corporate and social responsibility.
Ms. Johnson joined the firm in 1988 and held leadership roles in all major divisions of the business, including investment management, distribution, technology, operations, and high-net-worth, before becoming CEO in February 2020. She led the historic acquisition of Legg Mason in 2020, with the combined organization managing over $1.5 trillion in assets globally.
Ms. Johnson was named to Barron's list of the 100 Most Influential Women in U.S. Finance for three consecutive years beginning in 2020, and was named 2021 Woman of the Year by Financial Women of San Francisco. She has been named one of Money Management Executive's Top Women in Asset Management and was chosen by her peers as one of Ignites' Most Influential Women in Fund Management. Ms. Johnson is a frequent speaker at industry conferences, most notably on the topics of leadership, financial industry developments, diversity & inclusion, and innovation.
Ms. Johnson personally champions diversity and inclusion and is involved in a number of organizations that prioritize D&I. She is a member of the NYSE Board Advisory Council, which identifies and connects diverse board candidates to NYSE-listed companies seeking new directors, and serves on the advisory board of Black Capital, an early-stage fund focused on investing in black and other underrepresented founders. She is a member of the board of directors of Catalyst, a global nonprofit dedicated to accelerating progress for women through workplace inclusion. She is a member of the advisory board of The Creative Coalition, a social and public advocacy organization of the arts and entertainment community, and Democracy Investments, a firm focused on advancing democracy with innovative financial products.
Additionally, Ms. Johnson is a board member of the JMT Wilderness Conservancy and the Carolands Foundation. Previously, Ms. Johnson has served on various other boards, including the Lucille Packard Children's Hospital and the San Francisco Giants.
Ms. Johnson earned her B.A. in economics from the University of California at Davis.