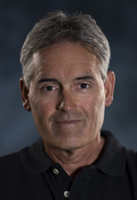 Sir Russell Coutts became CEO of SailGP in 2018 after joining forces with Larry Ellison to establish the global championship.
Coutts' historic sailing career has spanned all corners of the sport. He has won the America's Cup five times, including three times as skipper (1995, 2000, 2003) and twice as CEO (2010, 2013). His three undefeated campaigns (14-0) make him the most successful America's Cup helmsman in the 167-year history of the event.
Coutts is also an Olympic champion (1984), 12-time world champion and two-time World Sailor of the Year. He became a Member of the Order of the British Empire in 1985, Commander of the Order of the British Empire in 1995 and a Knight Companion of the New Zealand Order of Merit in 2009.
Coutts earned an engineering degree from Auckland University and is founder of the Russell Coutts Sailing Foundation aimed at introducing youth to the joys of the sport.