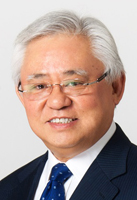 Executive Chairman
Yoma Group of Companies
A native of Yangon, Myanmar, Pun spent his formative years in China during the great Cultural Revolution and arrived in Hong Kong at the age of 21. He started out his career as a salesman at a Hong Kong-based real estate firm where he worked for ten years. In 1983, Pun went on to found Serge Pun & Associates Limited in Hong Kong and eventually returned to the country of his birth to establish SPA Myanmar in 1991.
In 1992, he founded one of the first public companies in Myanmar – First Myanmar Investment (FMI), which later became the first listed company on the new Yangon Stock Exchange on 25 March 2016. He led two other companies to successful listings on the Singapore Stock Exchange; Yoma Strategic Holdings on the mainboard in 2006 and Memories Group on the Catalist Board on 5 January 2018.
Today, Yoma Group has grown to become one of Myanmar's leading corporations with 40 companies actively operating in seven business sectors: banking and financial services, real estate development, automotive, agriculture and logistics, luxury travel and tourism, consumer services and healthcare.
Pun is currently a standing member of the Chinese People's Political Consultative Conference of Dalian, and a member of the Asia Business Council. Additionally, he served as an Honorary Business Representative of the International Enterprise Singapore for Myanmar from 2004 till 2006. He is also the chair of Singapore Management University International Board of Advisors for Myanmar, and is also a member of the Board of Trustees of AIM.
He is frequently invited to be a speaker in international forums on Myanmar and ASEAN. In 2014, Pun was awarded the special honor of being selected as one of the 65 outstanding Overseas Chinese Model worldwide to feature on a series of commemorative postage stamp celebrating the 65th anniversary of the People's Republic of China.
Pun now resides in Yangon with his wife and four sons.