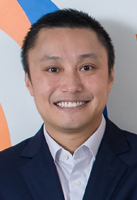 Founder and Group CEO
WeLab
Simon Loong is the Founder and Group CEO of WeLab, a leading pan-Asian fintech platform with over 50 million individual users and over 700 enterprise customers in Hong Kong, Mainland China, and Indonesia. Under his leadership, the company operates one of the largest digital consumer finance businesses in Asia, two digital banks and a fast-growing B2B fintech enterprise solutions business.
Simon is a strong believer and passionate about innovating the financial services industry with technology. He serves on key committees in both public and private sectors to drive the proliferation of the fintech ecosystem. He also serves on the board of Hong Kong Philharmonic. He has received numerous awards in recognizing his achievements, including "Innovation Leadership Achievement in Hong Kong" by The Asian Banker, "Asia's Most Influential" by Tatler Asia, and "Vice Chancellor's Achievement Awards" by The University of Sydney. He was also named as "one of the 20 people shaping Hong Kong's future" in the next 20 years by a leading Chinese media outlet.
Simon has 25 years of fintech and banking experience. Prior to founding WeLab in 2013, he held various leadership roles at Citibank and Standard Chartered Bank across Asia, and sat on its retail banking management committee in Hong Kong. Simon has a master's degree from Stanford Graduate School of Business and is a Fellow of Certified Public Accountant (Australia).