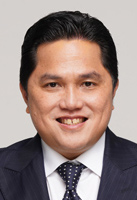 Minister of State-Owned Enterprises
Indonesia
Erick Thohir is Indonesia's Minister of State-Owned Enterprises (SOEs).
Appointed in late 2019, Minister Erick Thohir has been entrusted by President Widodo to lead the transformation of the Ministry of SOEs and SOEs, which manage one third of Indonesia's national economy – a key driver towards realizing the country's ambition to be a top 5 global economy by 2045.
Minister Thohir's robust 5-year transformation roadmap and bold reform initiatives have successfully revamped the Ministry's organization from bureaucracy to corporate centric, and navigated SOEs safely through the global economic slowdown due to the pandemic, demonstrated by a rapid rebound of consolidated net profit within a year.
Minister Thohir also serves as a member of the Supervisory Board of Indonesia's Sovereign Wealth Fund, the Indonesian Investment Authority (INA), Chairman of the Indonesian Syariah Economic Society (MES), as well as member of the International Olympic Committee (IOC) and International Basketball Federation (FIBA) Central Board.
Prior to joining the government, he was best known as a business leader with a passion for the media industry and sports. He held executive roles or ownership in numerous media and sports enterprises, from Mahaka Group to Inter Milan. He also held leadership roles across various national sportings organizations, including the Indonesian Olympic Committee, and Indonesia Asian Games 2018 Organizing Committee (INASGOC).
Minister Thohir holds an Associate of Arts degree in Communications from Glendale College, California; Bachelor of Arts degree in Advertising from American College, California; and an MBA degree in Advertising from National University, California.