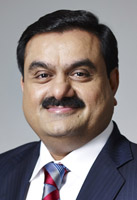 Gautam Adani is the Founder and Chairman of the Adani Group, India's largest integrated infrastructure group that is increasingly expanding its presence from traditional B2B sectors into B2C sectors. The Group's businesses include a world-class transport logistics business, an integrated energy infrastructure portfolio that spans generation, transmission and distribution, natural resources, airports, defence and aerospace, data centres, and multiple other sectors.
Mr Adani is India's first founder to lead a business group to a market capitalisation of $100 billion and beyond. He recently announced a contribution of $7.5 billion to help upgrade healthcare, education and skill development in rural India. He has also committed $70 billion to facilitate India's green energy transition.
With a combined current market cap of over $200 billion, the Adani Group is a portfolio of seven publicly traded companies that follow the philosophy of Nation Building.