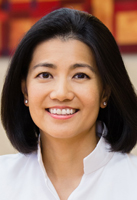 Managing Partner
Qiming Venture Partners
Nisa Leung is Managing Partner of Qiming Venture Partners, leading its health care investments. Qiming Venture Partners is a leading investment firm in China with over 430 portfolio companies.
She currently sits on the board of Zai Lab (NASDAQ:ZLAB; HKSE:9688), CanSino Biologics (SSE:688185; HKSE:6185), Venus MedTech (HKSE:2500), dMed, Chain Medical Labs, Berry Oncology, Belief BioMed, ZhenGe, Valgen among others. Her other investments include Gan & Lee (SSE:603087), New Horizon Health (HKSE:6606), Aeonmed Medical, Berry Genomics (SZSE:000710), Broncus (HKSE:2216), CITIC Pharma (acquired by Shanghai Pharmaceutical HKSE: 2607), Crown Bioscience (acquired by JSR Life Sciences), Kira Pharmaceutical, LIH, Novast Pharmaceuticals, Nurotron, Origene Technologies (acquired by VCAN Bio SSE:600645), Richen, Wuxi Leiming, MedX, Cure Genetics, Goodwill (SSE:688246), SinoCell Tech (SSE:688520), Sino Biological (SZSE:301047), Apollomics, Sino United, Schrödinger (NASDAQ:SDGR) , Shouti, Jacobio (HKSE:1167), Hope Medicine, Insilico Medicine, Alamar among others.
Prior to joining Qiming, she was co-founder of Biomedic Holdings with operations and investments in medical devices, pharmaceuticals and health care services in China including Novamed Pharmaceuticals (acquired by SciClone NASDAQ:SCLN) and U-Systems (acquired by GE Healthcare). Nisa was Venture Partner of PacRim Ventures in Menlo Park, and was previously with Softbank/Mobius Venture Capital.
Nisa has been recognized by the Forbes Global 100 VC Midas List in 2019, 2020, 2021 and 2022 and named Best Women VCs List by Forbes China (#1 in 2022, #2 in 2021).
Nisa earned her MBA from Stanford Graduate School of Business and a BS from Cornell University. She is currently visiting lecturer at Harvard Law School, member of Stanford Graduate School of Business Advisory Council and serves as an independent non-executive director of the Hong Kong Exchanges and Clearing Limited ("HKEX") and Hong Kong Palace Museum.