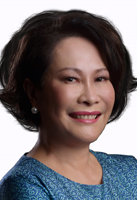 Founder, President Director and CEO
Nippon Indosari Corpindo
Wendy Yap is Founder, President Director and CEO of PT Nippon Indosari Corpindo Tbk., which produces over 100 varieties of mass market bread and cakes throughout Indonesia under the well-known brand "SARI ROTI" and "SARI KUE".
The company started in 1995 and is currently operating 14 plants strategically located across Indonesia and building 1 more plant in Sumatera. Having a strong first mover advantage, it now has more than 80,000 point of sales distributing packaged bread and also cakes in both modern and general trade channels in Indonesia.
PT Nippon Indosari Corpindo Tbk. is publicity listed on the Jakarta Stock Exchange under the ticker code "ROTI". Since listing in June 2010, the stock price has appreciated over 5 times the IPO price. Under Wendy's leadership, the company has won several awards both domestically and internationally (including Forbes Asia's Best Under A Billion award and the Best of the Best award from Forbes Indonesia). Wendy has been recognized on Forbes Asia's annual 50 Power Businesswomen list for several years and has also featured on top women CEO lists in local magazines.
Wendy started her career in her father 's real estate business in the U.S. and returned to Indonesia in the early 1990's to start the Wendy's Hamburgers franchise in Indonesia and Hong Kong. This gave her experience to establish operating systems in scaling up the bread business with proper procedures and controls to achieve growth and profitability in the business.